Have you been seeking for employment opportunities in UAE? Have a look at Khaleej Times Jobs where you will find the best opportunities here. Good news is that vacancies have not only been announced for highly qualified people but non-skilled individuals can also find jobs and get employed.
For Daily Gulf News Jobs: Click Here
Khaleej Times Jobs in Dubai, Abu Dhabi, Sharjah & Ajman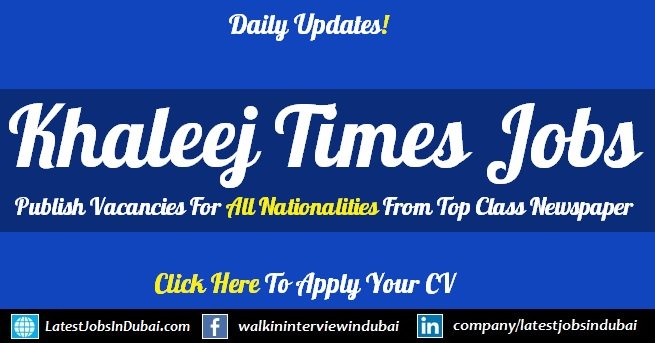 Briefly Discussed About Khaleej Times Newspaper
Khaleej Times is the most popular newspaper of UAE that publishes latest news regarding all types of issues so as to keep you up-to-date about what's happening all over UAE. Khaleej Times is the first ever English Newspaper that was launched in UAE in 1978. You can find print version as well as online version of this newspaper and in fact, online version is not just the transcript of printed one but it covers a lot of other things based on interests of people.
Khaleej Times Newspaper Jobs

(Announced Many Vacancies)
Here in Khaleej Newspaper, the most widely seen job advertisements announce for Freshers, office boys, drivers and salesmen. An individual can find latest and all types of vacancies are published in this newspaper even before these are printed on any other newspaper. It's the best chance for you to start your career in UAE so do not miss it and hurry up to try your luck! Keep visiting LatestJobsinDubai.com on a daily basis and stay up to date to find the best employment opportunities!
Khaleej Times Classified Jobs Announced For This Week
This week, some vacancies have been highlighted in Khaleej Times Jobs for Freshers and skilled individuals. All these vacancies are latest and hence hurry up! Apply for any of these posts before they get expired! Here is the list of posts and vacancies that have been published below.
Kelvin Catering Services LLC (22 Nos.)
1) Cashiers
2) Sandwich Maker
3) Chapati/Paratha Maker
4) Waiters/Waitresses
5) Salad Makers
6) Butchers
7) Room Boys/Housekeeper
8) Laundryman
9) Barista
10) Assistant Cooks
11) Storekeepers
12) Executive Chef
13) Pastry/Bakery Man
14) Diet Cook (Healthcare)
15) Cleaners/Helpers/Delivery Boys
16) Drivers – Light & Heavy Vehicles
17) Catering Supervisors
18) Chef (Continental/Asian/Arabic)
19) Cooks (Continental/Asian/Arabic)
20) Restaurant/Catering Managers
21) QHSE Officer
22) Project Manager
Industry: Integrated Facilities Management
Job Location: Dubai
Experience: 4-10 years UAE experience in Retail Food Outlet/Hotel & Banqueting/Industrial Catering
Joining Status: Immediately
Email CV: [email protected]
Posted Date: 6th January 2021
Green Coast Nurseries (30 Nos.)
1) Steel Fixer
2) Masons
3) Duct Fitter
4) Pipe Fitter
5) Electrician
Industry: Construction Projects
Job Location: Dubai
Experience: Experienced workers
Salary Range: 1100 – 1200 AED /month
Benefits: Overtime + Accommodation
Email CV: [email protected]
Contact #055 7571205
Posted Date: 6th January 2021
Reputed Contracting Company (6 Nos.)
1) Civil Engineer
2) Office Boy
3) Mason
4) Helper
5) Carpenter
6) Steel Fixer
Email CV: [email protected]
Contact #050 5374784
Posted Date: 6th January 2021
Sales Engineer
Company Name: Nextep Company
Nationality: Indian/Filipino/Chinese
Experience: 3 years UAE experience in Construction Sales
License: UAE valid driving license with having own car
Email CV: [email protected]
Posted Date: 6th January 2021
Engineer & Central Air Condition Building Maintenance (16 Nos.)
1) Maintenance Engineer (1 No.)
Experience: 5 years experience in facility management
2) Maintenance Supervisor cum Storekeeper (1 No.)
Experience: 3 years experience in facility management
3) Chiller Technician (2 Nos.)
Experience: 5 years similar experience
License: UAE valid driving license
4) AC Mechanics (6 Nos.)
Experience: 3 years experience in package unit, split unit FCU and AHUs
5) Pipe Fitter cum Insulator (1 No.)
Experience: 3 years experience in pipe fitting welding and insulation of chilled water pipes
6) Painter (1 No.)
Experience: 3 years experience in domestic painting
7) Plumber (1 No.)
Experience: 3 years experience in facility maintenance
8) Helpers (3 Nos.)
Email CV: [email protected]
Posted Date: 15th December 2020
Precast Company (4 Nos.)
1) Sales Manager & Sr. Sales Members
2) Projects Manager
3) Production Manager
4) Sr. Civil Design Engineering QS & Estimators
Experience: 3-5 years experience in precast and construction fields
Email CV: [email protected]
Posted Date: 15th December 2020
A Medical Center in Sharjah (2 Nos.)
1) Nurse (MOH License)
2) Office Girls
Joining Status: Immediately
Email CV#1: [email protected]
Email CV#2: [email protected]
Posted Date: 15th December 2020
Electrical Engineer
Job Location: Abu Dhabi
Nationality: Arab National
Experience: Must be experienced
Email CV: [email protected]
Posted Date: 15th December 2020
Foreman for Civil Painting Works
Job Location: Abu Dhabi
Experience: Must be experienced
License: UAE valid driving license
Email CV: [email protected]
Posted Date: 15th December 2020
IT Support Staff
Company Name: Al Awani General Enterprises
Knowledge: Hardware, Software, Website Design, Online Sales & Marketing
Language Skills: Arabic & English
Email CV: [email protected]
Posted Date: 15th December 2020
Male Secretary
Industry: Contracting Company
Education: Bachelor's degree
Experience: 3 years similar experience
Language Skills: English (Proficiency)
Email CV: [email protected]
Posted Date: 15th December 2020
Logistics Assistant
Experience: JAFZA Customs Procedures, Shipping & other logistics works
License: UAE valid driving license
Gender: Male
Email CV: [email protected]
Posted Date: 15th December 2020
Registered Nurse
Industry: Medical Center
Job Location: Sharjah
Email CV: [email protected]
Contact #06 5744664
Posted Date: 15th December 2020
Cashiers
Nationality: Filipino
Experience: 2 years gulf experience in Supermarket
Contact #056 5110652
Posted Date: 15th December 2020